Welcome to my sewing room!
Here you will find me keeping very busy! The services I provide include mending, custom sewing, embroidery, monogramming and of course, alterations! I have a line of custom made handbags from reproduction vintage fabrics and vintage fabrics that I have found during my travels
I restore vintage linens and recycle nearly destroyed linens into new items such as heirloom baby gowns or children's clothing.
Sewing lessons are offered for ages 8 and up. Lessons include basic sewing skills right on up to heirloom sewing. Check the Class Agenda for more information and the next available start dates.
If you are looking for someone to do your sewing mending or alterations or perhaps you wish to learn to make your children some beautiful clothing of your own then just give me a call and I would be more than happy to help you!
Have a super day!
Joanne's Sewing Room
Hinton, Alberta T7V 1R7
780-865-2834
This page was last updated on 09/21/01.
[ Free Projects ] [ Class Agenda ] [ Links ]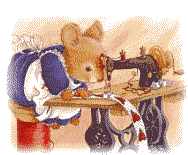 Email me by clicking on the mouse